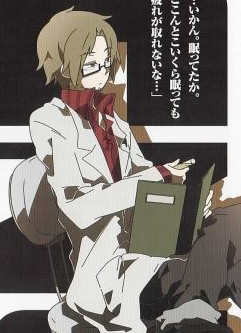 Name:
Tatakai Bara
Age:
21
Trainer Class:
Researcher.
Appearance:
Tatakai appears like what your normal pokemon researcher would look like. Tatakai has arguably greenish or brown hair. His eyes are a dull shade of blue which are eyes are covered by his black semi-frame square glasses. He has some slight stubble on his chin which is hard to notice right away. Tatakai wears a red long sleeved plaid shirt, over it he wears a white lab coat which reaches down to his knees. He has wears gray colored pants which are rolled up slightly near the end of the legs. He often wears black colored loafers (for things such as research lectures), other wise he'll wear navy blue/gray tennis shoes (every where else, such as just walking around).
Personality:
Tatakai is a rather hard to understand person. As a researcher his goal is to understand the reason behind the reason, not behind normal evolution, but the reason why Eevee can evolve (Esepon and Umbreon is the main focus). To a few questioning people this seems like a cover up, this is true. Tatakai's true and personal goal is to free pokemon from people. He does believe that people and pokemon can live in harmony, but without the need for pokeballs.
When he sees anyone using a pokeball, he just feels saddened. He feels like the pokemon is silenced by using a pokeball. He feels that pokemon rangers have a slightly better idea, because the pokemon isn't silence. However he doesn't entirely like it because the pokemon seems very much forced, in his eyes, to do the trainers work. He understands the reason's behind pokeballs, and he feels that they are a nice piece of technology, but he hates them for silencing pokemon.
History:
As a child Tatakai grew up with no parents, so he lived among the pokemon. Amazingly Tatakai was able to understand the pokemon language like it was a second language to him. When Tatakai was 10 years old the forest that he lived in was turned into a city. Of course he was highly upset about this. Saddened, he began to live in a forest near by, while he was there he began to see trainers coming through the forest.
None of them had captured a pokemon in the forest, so it was peaceful, for a few more months anyway. Trainers began to capture the pokemon of the forest, the once life filled forest was starting to become less populated by pokemon. Tatakai became in raged when he began seeing people capture the pokemon in a pokeball. He wanted to understand why people were silencing their pokemon, not to mention taking them away from their home. One day he saw a trainer battling a weakened Eevee. Tatakai managed to get rid of the trainer and help the Eevee. Eevee has yet to leave his side.
When Tatakai was 15 a pokemon professor had stumbled across Tatakai and his Eevee. The pokemon professor helped Tatakai answer all of his questions. Tatakai did look up to the professor, so he began studying pokemon, and he found out much more than he thought that he knew.
--------------------------------------
Pokemon:
Name:
Eve the female Eevee
Level:
5
Moves:
Tackle, Tail whip, Helping hand
Personality:
Eve is a very caring pokemon. Ever sense Tatakai has helped her a few years ago she will help Tatakai anyway she can in his research. She is a very quick witted pokemon, being able to solve almost any puzzle that comes her way with ease. While in battle Eve is powerful and quick, but it normally leading to cockiness. That is often her downfall in battle.